---
Home

›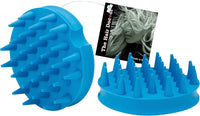 Hair Doctor Scalp Massage & Shampoo Brush:  Deep cleans and massages the scalp reducing scalp itch and dandruff:  Model# TH712scalp
Benefits:
31 fingers with soft tips cleans scalp, removes dandruff and product buildup.

Cleans and relieves scalp itch
Stimulate circulation keeping scalp clean and healthy.

Hand held with wide finger indent for comfortable grip.
 Use wet or dry. Feels so good on the scalp!  

FAQ;s
How should I move the brush on my scalp?
Scrub back and forth along the grain of your hair. Avoid scrubbing in a circular motion as that can cause tangling.

 Hair Doctor News
Hair Doctor invented the original rotating tooth Combs and Brushes to stop hair loss and breakage and to keep hair healthy and beautiful.